After installing the theme and activating your License key, you will be able to use the automatic plugins installer.
The provided plugins included with the theme are:
Pro.Radio Core: required for custom post types and custom fields
Pro.Radio Elementor
QTM Player
Elementor
Kirki: required for the customizations
Classic Editor (if you don't like Gutenberg)
Easy Swipebox: to open photos and videos in a lightbox
Icons2Go: adds hundreds of custom special icons to your website and to Elementor
Pro.Radio Ajax: required to have the non-stop music across pages
Pro.Radio Chart Vote: adds up and down voting to chart tracks
Pro.Radio MegaFooter: create endless footers in Elementor
Pro.Radio Reaktions: adds likes, views counter and sharing functionalities
Pro.RadioTaxonomy Background: add custom images for each category
Pro.Radio VideoGalleries: create filterable galleries of YouTube or Vimeo videos
Pro.Radio Widgets: add custom widgets to your sidebars
QT Places: premium plugin to create maps of every post type
One Click Demo Import: required only for the first installation of the demo
All of the plugins are provided with the theme at no additional cost. To install the demo contents, you'll need to have all of the plugins installed and active.
What to know
The installation is completely automated. The most recent version of the plugins is available through our repository system and is automatically distributed from our secure server to your own website using the standard WordPress plugins management page.
To be able to install the plugins, you need to make sure your server can connect properly to our repository. In case of issues, please make sure with your hosting provider that your server allows the connections to https://connector.pro.radio and to https://pro.radio.
In case of any issue or doubt, you can use the automated "Server Check" plugin to verify your current settings.
For alternative installation methods, please contact our helpdesk.
Installation procedure
1) Activate the purchase code
Click on Appearance > ProRadio Activation or on the notification banner, on the link "Please activate your license".
The license code is meant to be copied and pasted including "Proradio-WP-".
This will open the license activation page. The license activation is required to verify your purchase code and will grant the permission to connect to our plugins repository.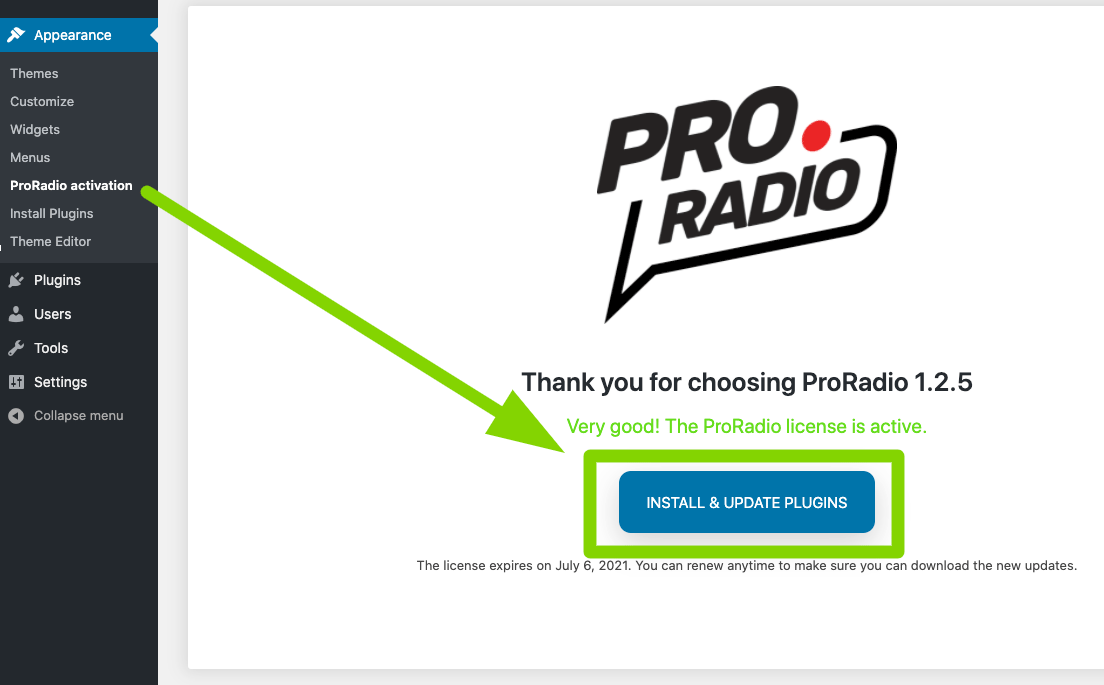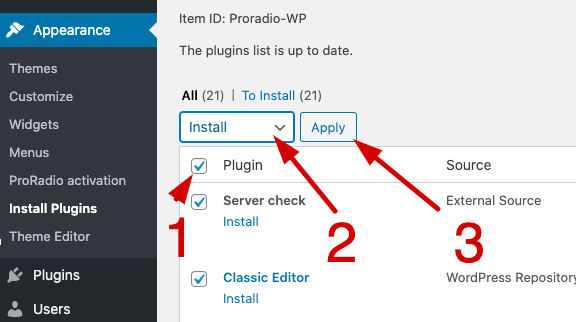 You received the purchase code via email at the moment of the purchase, and you can retrieve it anytime from your profile page on our shop website.
The purchase code can be used multiple times within the same domain. If you do a test installation and need to reactivate it in another domain, you can use the function "Reissue license key" in your admin area.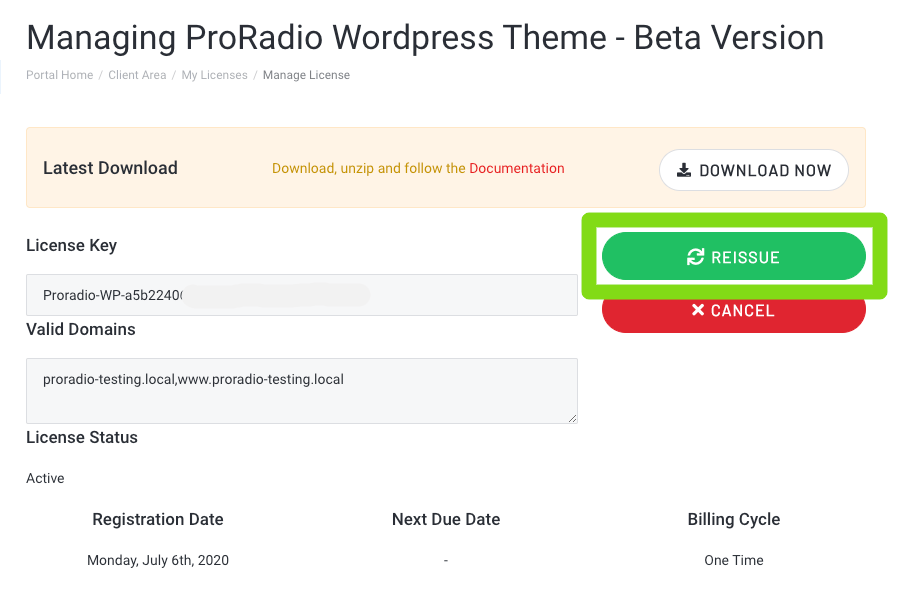 2) Install the plugins
Once the activation is done, click "Go to ProRadio plugins" to start the installation procedure.
You can install all at once by clicking the "select all" checkbox, then select "install" from the dropdown and click the Apply button.
If the installation gets stuck (may happen because of execution time limit on some servers) don't worry: just reload the page and install them one by one.
When installing Elementor, it can happen that you are redirected to the Elementor page after the installation: just go to your admin dashboard once finished.
Troubleshooting
Please note that if you wait too much or you see any error, it can be because one of the following cases happens:
The server is too busy, so just repeat the process in about 2 minutes
Your server does not comply with the requirements
Your hosting is too slow and you should switch to a faster-hosting package or provider
If you have any issue with plugins installation please contact the Helpdesk
Sorry, you are not allowed to access this page
If you see this error message, it simply means that you don't have any plugin to install anymore. It's done and you're good to go!
WordPress creates this special page only when you need to install or update any plugin, and the page doesn't exist anymore once the installation is completed, causing this error if you try to open it, so don't worry about the error as it means that your site is ready to go. Just go back to your wp-admin dashboard and you can import the demo or start using the theme.